Mama J's is Serving Up Change!
A New Way to Raise Money with Restaurants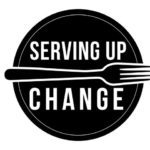 Mama J's is proud to support our community through Serving Up Change, a fundraising and donation management platform that connects organizations with restaurants that care. As a community group or non-profit, you can make your donation requests and set up fundraisers with us through this platform.
If your organization does not have a Serving Up Change account, you can setup a FREE account at http://www.servingupchange.com/.
fundraising
The Serving Up Change virtual fundraiser uses technology to improve the traditional spirit night fundraiser. The platform creates an online fundraising page hosted by your organization and Mama J's, where supporters can purchase e-Gift cards and/or make a flat donation. Your organization earns the designated percentage as fundraising profit and your supporters can redeem their e-Gift cards at any time in the future. Mama J's typically donates 50% – 100% back as fundraising profit
Follow our easy 4-step process to create your virtual fundraising campaign.
STEP 1
Request a virtual fundraiser by clicking on "Request Fundraiser" from the Mama J's Serving Up Change profile page. This step allows you to set your fundraising goal, set the length of the campaign (30 days max), create your campaign page, and submit the request.
STEP 2
If approved, start promoting and your fundraiser will go live on the campaign start date.
STEP 3
Supporters purchase eGift cards and/or donate through the campaign page. You will see the running fundraising progress on the campaign page to monitor success.
STEP 4
Within (30) days after the campaign, the organization receives a fundraiser check in the mail.
donations
If your organization is seeking donations in the form of a Gift Card, Sponsorship, Monetary Contribution, or In-kind food, you can submit your request through our Serving Up Change profile page. Please note that Mama J's will consider donations of in-kind food, gift cards, and sponsorships but we require a minimum of 30 days in advance for consideration.
CLICK HERE to visit our profile page to view the types of causes we support and any donation and fundraising restrictions.